Fair Warning: this post is about 2.7 years old, so some of the information might be a bit dated. On the other hand, this post was last modified about 2.7 years ago, so maybe it's up-to-date after all. In any case, please keep all this in mind while reading. Thanks for understanding!
---
The Actual News:
YES! Today I've got some Pokémon 25 Tidbits for you… namely in the "Food-related Promotions" Department. Specifically, I've completed the McDonald's Promo page as well as given the General Mills Promo page a good update. Good times.
…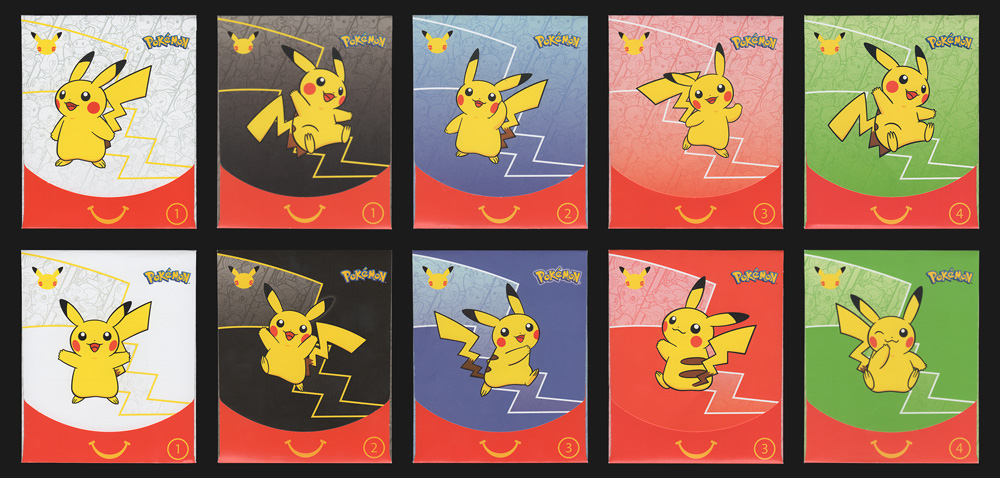 So, first off: McDonald's. As previously mentioned, this would be my LAST McDonald's post, only because I've finally completed collecting EVERYTHING about the promotion as possible. All the promo packs, all the stickers, prizes, etc… you name it, it's ALL collected together on the McDonald's Promo page.
Yep! There isn't a single thing I've left off that page. I've scanned every single promo pack—both light and dark versions of the white, black, blue, red and green packs—scanned every single prize—including every Generation vinyl sticker seen in the #3 packs—and wrote down every single card that you could find in the McDonald's set. That's right, there isn't a single thing I've left out!
…

…except for card scans. DAG FLINGUS!!
Bah, yeah, I didn't think about maybe including scans of every card and their holo version, plus I'm still working on my "updated McDonalds set" fakes for it… so maybe this won't be the LAST McDonald's post, will it? Oh well… now I will say that it will be the last post when it comes to the actual promotional elements. Namely, if you ever wanted to see whatever prizes, stickers, etc, that you missed out on during the original release of the McDonald's promotion, then Pokémon Aaah! has you covered. And that's not half-bad, isn't it?
…
OK, second off: the General Mills page.
Now originally I had thought that the Galarian Ponyta extra card was exclusive only to Cinnamon Toast Crunch boxes… but as fellow old skool PokéGym Mod Brian "BJJ763" Jessing just recently revealed to me: that's not quite the situation, as his wife bought a box of Trix which also had the Galarian Ponyta exclusive chance notice on the box too! Curious about what this meant, I dug into things a bit deeper and realized that I was slightly right… well, mostly wrong. Turns out the Galarian Ponyta is exclusive to Family Size boxes of specially marked boxes of cereals, not just Cinnamon Toast Crunch. I based that original assessment on the fact that I bought a box of Family Size Cinnamon Toast Crunch and a box of Large Size Trix, not realizing that it was the size, not the brand, which determined that exclusivity. I have therefore updated the General Mills Promo page accordingly. Thanks again for the heads up, BJJ763!
But aside from just that, I actually took a trip to find out what boxes have the promo or not, and I actually discovered to what extent the promo applies too. Turns out it's also on boxes of Golden Grahams as well! Take a look: I collected box scans of every iteration of the promotion, covering all possible brands and sizes!
First off, here's the actual sizes for the boxes, showing off how much is in each box. So like, if you're the kind of person who can polish off 15 oz or 425 grams of cereal in a single sitting, then you know how many bowls each box has:
| | | |
| --- | --- | --- |
| | Large Size | Family Size |
| Cinnamon Toast Crunch | 16.8 oz (476 g) | 19.3 oz (547 g) |
| Lucky Charms | 14.9 oz (422 g) | 19.3 oz (547 g) |
| Cocoa Puffs | 15.2 oz (430 g) | 19.3 oz (547 g) |
| Trix | 13.9 oz (394 g) | 17.0 oz (481 g) |
| Golden Grahams | 16.7 oz (473 g) | 19.6 oz (555 g) |
…
Then below are the actual box designs, showing the Family Size's exclusive Galarian Ponyta notice, and the Large Size's lack of notice:
| | | |
| --- | --- | --- |
| | Large Size | Family Size |
| Cinnamon Toast Crunch | | |
| Lucky Charms | | |
| Cocoa Puffs | | |
| Trix | | |
| Golden Grahams | | |
| Backs | | |
…
Pretty neat huh? Seeing that Golden Grahams is actually part of the promotion as well is great news, cuz I LUUUUV me some Golden Grahams!
They definitely taste better than inanimate carbon rods. Well… only just.