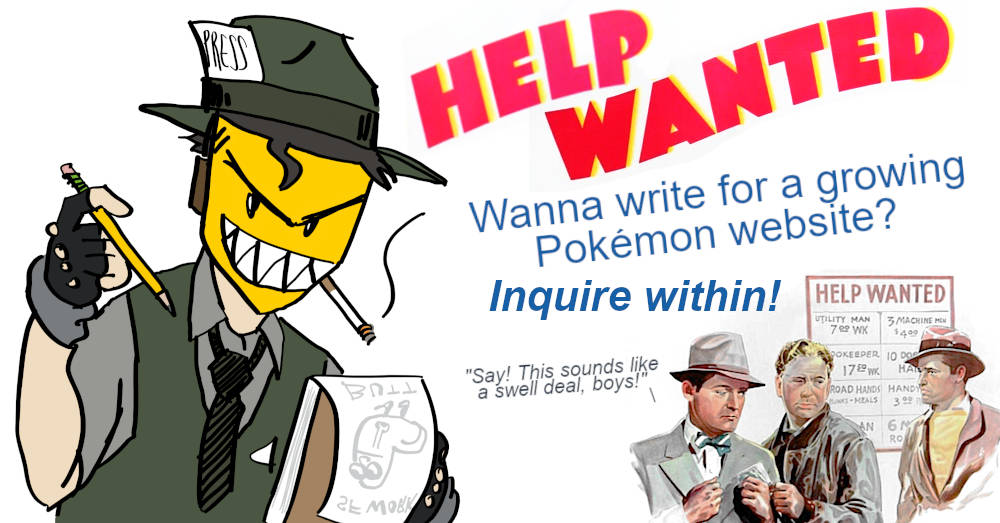 One thing I've learned about running the site in the past is that the best way to help grow my platform is to give my audience a reason to come back day-after-day. But it's a bit hard to do that when I'm so focused on work and paying the bills… something that I didn't have to worry about back when I started PA! back when I was still in high school. All this adulting has therefore made even doing one weekly update a bit of a challenge, especially when there are other non-work-related projects that I'd like to work on as well.
So after giving this a bit of thought, I've decided that I'd like to open the site up to include a small team of newswriters to help post various Pokémon-related news bites to the site. The following are my current requirements:
have the free time to volunteer to post at least once a week
have some base fundamental experience with Adobe Photoshop (or GIMP)
have experience with WordPress, as well as HTML and CSS
willing to follow PA! site design guidelines, as well as content quality guidelines
have a good finger on the pulse of Pokémon news
OPTIONAL BUT IT HELPS: has a bit of a humor streak and/or can write very engaging, informative articles
If you think this is something that you're interested in helping out with, as well as have some examples to show off, then let me know! Please feel free to contact me (Nick15) at any of the following:
you can find me on the PA! Discord
send me an old fashioned email at nick15 [at] pokemonaaah [dot] net
Right now I want to start off small, so I want to emphasize that this will be an unpaid volunteer job. However, as the site grows, this can lead into other opportunities such as helping run the site's social media, such as Instagram and Twitter for starters, and YouTube and others later on down the road. Most importantly, this can lead towards PAID article writing, PAID social media posting, and even profit sharing opportunities. We can discuss those details as they come.
I'll keep this Help Wanted page up until I feel like I have all the help I need, so feel free to get in touch with me at your earliest convenience.
I look forward to your help!
---